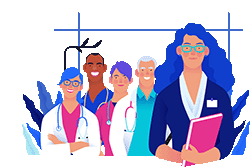 8132: Practice Management 101
No Payment Required
---
NOT ELIGIBLE FOR PREMIUM CREDIT
---
Whether you are new to a supervisory role or practice management in general, the leadership responsibilities in a medical practice are immense. While healthcare is a very personal service, it is nonetheless a business complete with its own set of laws, terminology and challenges. Keeping up with everything can be an overwhelming task especially for those new to their position. Balancing the needs of physicians, staff and patients is an art. SVMIC's Practice Management 101 is a series of online course modules designed to provide a foundation for those new to a leadership position within a medical office.
By clicking the registration tab above, you will see the list of modules you can choose from.  You can complete one or all of the modules based on your individual needs. Those modules are: 
Human Resources
Finance
Leadership
Operations
Billing & Collections
Website & Resources
Target Audience
Practice executives and supervisors new to their position and those joining a medical practice. Geared toward those with less than 2-3 years of medical practice supervisory responsibility, but the course is open to anyone who needs a basic refresher.
Learning Objectives
Learn the essential data points to monitor and benchmark in a practice
Discuss best practices impacting patient flow and billing operations
Identify compliance hot spots including OSHA and HIPAA
Outline the life cycle of an employee
Provide SVMIC's Annual Practice Assessment Tool and how to implement it