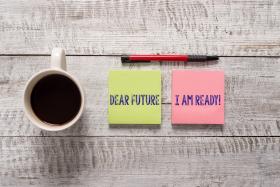 Preparing Your Practice for 2021: A Virtual Interactive Series
NOT ELIGIBLE FOR PREMIUM CREDIT
---
Learn strategies for enhancing your own leadership and communication style and walk away with specific techniques to implement with your entire organization. 
This dynamic series of discussion-based sessions focuses on brave and honest leadership. Help your organization thrive in 2021. 
Registration Details:
This course is offered as a series in January with three weekly, one and a half hour sessions, so you and your leadership team begin 2021 as prepared as possible. The sessions will work together in consecutive order and it is HIGHLY RECOMMENDED that you attend each session.
Attendance in this series will be limited to ensure an interactive experience. 
Session Dates and Times:
When you register for this course, you will automatically be scheduled for all three sessions. If you are interested in the series but have a scheduling conflict with one of the dates, please email CaronS@svmic.com 
Session 1: Wednesday, January 13, 1:30-3:00pm 
Session 2: Wednesday, January 20, 1:30-3:00pm
Session 3: Wednesday, January 27, 1:30-3:00pm
Learning Objectives
Review and revise your organization's mission statement and core values
Learn how to implement a common language for difficult conversations that are kind and direct 
Determine goals and priorities beyond finance for the coming year
Walk away with an action plan for your practice's best year ever
Price:
Free to all SVMIC members
Facilitator: 
One of our newest Medical Practice Specialists, Gretchen Napier, SHRM-SCP, will facilitate this series. She is one of the rare individuals who thrives in an online format! An undergraduate degree from Vanderbilt in Human and Organizational Development sparked her interested in leadership theory and was focused by earning a Master's in Healthcare Administration. Gretchen brings to the conversation decades of healthcare leadership experience, including owning her own care management company with 22 multi-disciplinary employees and practices in Raleigh, NC and Nashville, TN.