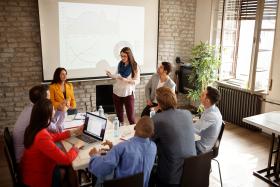 MR2202: Regional Medical Practice Workshop - Knoxville, TN
No Premium Credit Available
---
This is a program designed to assist those working in a supervisory role in a medical practice. The curriculum is based on issues among the most pressing in today's medical practice environment. The sessions are designed to provide relevant updates, considerations in decision making and managing your practice and/or resources to assist where appropriate. 
Payment Required:
All attendees: $99
Target Audience
Administrators, Managers & Supervisors – While there is no required experience level for attending this meeting, it is assumed participants have a working knowledge of medical practice operations, terminology and a basic understanding of the outlined content areas. Individuals new to a supervisory role or practice management are highly encouraged to attend our virtual Practice Management 101 program.
Faculty:
The faculty for the course consists of SVMIC Medical Practice Consultants with deep expertise in their subject matter.
ACMPE Information
The American College of Medical Practice Executives (ACMPE) credit hours may be requested for this program. One credit hour per each hour of participation may be claimed.
Embassy Suites West
9621 Parkside Drive
United States