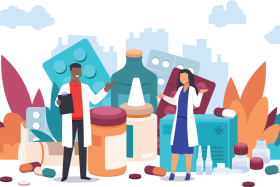 9069: Prescribing Controlled Drugs - Minimizing the Risks
COVID-19 Update: Fees Waived
In an ongoing effort to support you during the COVID-19 pandemic, SVMIC is waiving the $75 fee for all self-study education programs, that are purchased on 3/24/20 or later. This waiver will be in effect through the end of 2020. 
---
Credit Awarded
2 hours of mandatory controlled substances CME credit for physicians and other prescribers
10% Premium Credit for Physician Policyholders
Certificate of Participation for Non-Physicians
MOC available for ABA, ABIM, ABO, ABOHNS, ABP, & ABPATH
*** Course descriptions can be found by clicking on the course titles above. 
---
Registration
There are two versions of this course, and you may only complete one of them. If you are licensed in Tennessee, you MUST complete the Tennessee course to qualify for prescribing credit. If you are not licensed in Tennessee, you may select either course. To enroll, check the box beside the option you need, click "Enroll" and then click on the course title to begin. 
---
Required Hardware/Software