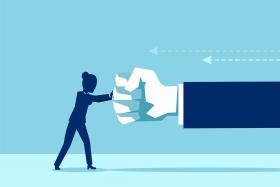 8222: Virtual Webinar - Protecting and Educating Against Workplace Violence
Personal safety is a growing concern for many employees in a medical practice. In response to the increasing number of workplace violence events in the medical community and policyholder requests for education, SVMIC's Medical Practice Services Department is hosting this live webinar.
Registration instructions can be found under the registration tab.
---
No Premium Credit Available and No Payment Required
---
Healthcare has become a high-risk profession when it comes to workplace violence. So much so that the health care and social service industries are five times as likely to suffer a workplace violence injury than workers overall. Practices who take the opportunity to prepare, educate, and train their staff are better able to address the risks and incidents of violence in the workplace. In this session, the speakers will use real-world examples and personal experience to highlight risks and warning signs. Attendees will be instructed on the importance of conducting security vulnerability assessments to find risk factors within their facility and creating and implementing policies and an emergency action plan to help prepare staff in the event of a workplace violence incident.
Learning Objectives
Identify workplace violence, warning signs and how it affects staff and operations
Review the responsibilities of management and staff in identifying, preventing, and protecting individuals from workplace violence
Express the need for an emergency action plan to address workplace violence and create protocols for transitioning from patient care to self-preservation
Please click the "Take Course" button above to proceed with registration where you will be prompted to provide the necessary information to save your spot for the webinar. You will receive an email prior to October 19 providing you with the webinar link you will need to attend the webinar. 
Webinar Attendee Requirements: 
Internet access
Webcam (preferred)
Audio connection 
*Best to attend the webinar from a computer or laptop as opposed to your mobile phone