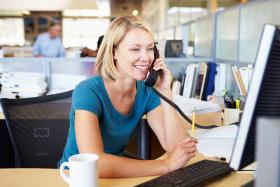 8126: Telephone Etiquette in the Medical Office (Staff)
No Payment Required
---
NOT ELIGIBLE FOR PREMIUM CREDIT
---
This course will cover best practices for telephone etiquette while in the medical office.
Printable PDF of Presentation:
Telephone Etiquette
Please choose the format you wish above: Individual or Group. If you are taking this course on your own, you will choose the individual training option. If you are presenting this training to a group, please choose the group training option.
Required Hardware/software