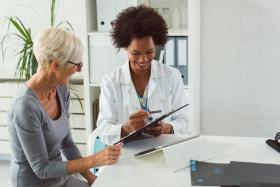 7210: Patient Safety in the Physician Office Setting (Staff)
No Payment Required
---
NOT ELIGIBLE FOR PREMIUM CREDIT
This presentation will discuss injuries resulting from accidents in the office setting along with basic safety principles that should routinely be followed.
Target Audience
Practice Managers and Office staff: Clinical and non-clinical
Learning Objectives
Identify patients at risk for falls;
Describe safety principles that should be followed in association with injections; and
List steps that can be taken to prevent medication errors.
Time Requirement:
14 minutes
Please choose the format you wish above: Individual or Group. If you are taking this course on your own, you will choose the individual training option. If you are presenting this training to a group, please choose the group training option.
Required Hardware/software
Pop-ups must be allowed for this website