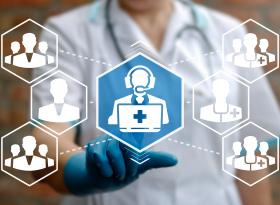 7216: Customer Service Recovery for Healthcare: The Right Words at the Right Time (Providers and Staff)
No Payment Required
---
NOT ELIGIBLE FOR PREMIUM CREDIT
---
This practical program is designed to empower healthcare staff with a clear checklist of Customer Service Recovery tools and techniques. From showing empathy and truly listening, to exploring with permission phrases and presenting options, front-line healthcare employees will learn how to match the signals they send with the words they say. A wide variety of realistic healthcare scenes demonstrate the use of The Right Words at The Right Time to over-come almost any service recovery challenge. 
Target Audience
Practice managers and office staff: Clinical and non-clinical
Learning Objectives
Understand the three messages you should convey to patients and their visitors;
Describe words that can be used to send the right messages;
Explain the value of using "permission phrases" in combination with the three messages; and
Describe the two things you should never say to patients or visitors.
Additional Customer Service information is available in the Online Self Study Course "Achieving Service Excellence"  as well as the self study course "Give 'Em the Pickle"
Time Requirement
15 minutes
Please choose the format you wish above: Individual or Group. If you are taking this course on your own, you will choose the individual training option. If you are presenting this training to a group, please choose the group training option.
Required Hardware/software
Pop-ups must be allowed for this website